I've been nominated

again and really, How can I refuse?!
A humongous Thank You to Lauren for nominating me and giving me thought provo

king

questions! Thanks Lauren and I'm sorry I'm very late by the

way

! You can check out her post here! She has a great blog with awesome content!
I've eliminated a question

as

I've already it answered in Part 1

.
2. What book would you like to become a movie/TV show?
I wanna say Mortal Instruments by Cassandra Clare, but as it is already being made into a TV show, which, THANK GOD! I'm so excited!!!
Other than that, I think the Throne of Glass series by Sarah J. Maas would make an excellent TV show!
It has magic, action, great characters, a kickass plotline, A lead heroine who's like the Male version of Dean Winchester! and a story that's long & complicated!
WOAH!

CALL SOMEONE RIGHT NOW! Why hasn't this series already been Televised???????!!!!!!!!!

3. What famous person would send you into total fangirl/boy mode?
He would probably make me squeal like a little girl, which
probably wouldn't go with me wanting to maintain an image of sophisticated scientist in front of him...
Ah! Screw It! I'm definitely gonna be jumping up and down, squealing and probably faint if I get to meet him (which I hope I will!!!!!!!)! :D

4. Favorite Harry Potter book (not having read all of them is not an option!)?
The Mirror of Erised is one of my most favorite scene in the ENTIRE Harry Potter Series!
My favorite one always will be the Sorcerer's Stone or the Philosopher's stone as it's called in the UK. Philosopher's stone sounds more cool. Wonder why they changed the title..
Anyway, it's my favorite. I remember being a little girl who didn't know anything about Harry Potter and happening upon the first one on TV. It was truly magical (no pun intended) and I remember feeling just the same when I read the first book many years later. It was where the journey started
and that's why it will always hold a cherished place in my heart. *cue Harry potter music*

5. Is there a food that a book has made you want to try?
I've always wanted to
try criollo from the Poison Study series
. It's supposed to resemble nail sized fudgy brownie that's a little flaky and tastes "bitter, sweet, nutty and fruity". I was kind of salivating when I read about it in the book!
It is made from Theobroma. Incidentally,
Theobroma cacao is used for making chocolate.!
The closest recipe I've seen is a fudge from Martha Stewart's Kids Magazine (here). If any of you know any similar item, please, do tell me!

6. Do you like deckled edges on books?
Deckled edges drive me crazy!!
I prefer my edges uniform and smooth. Although I do LOVE dog earing pages!

7. Ninjas break into your house and plan on stealing your bookshelf, what character do you channel to beat them?
I would channel Valek from Poison Study series by Maria V. Snyder! I think he is the most ninja-isque character I can think of! He's such a badass! To beat a ninja, you need a ninja! Oh yeah, totally gonna go into Valek mode, though I'd probably look like a drowning cow..LOL
8. What Disney character do you think you are most like?
As I believe in authenticity, I took a test and well, here is the result! (Oh, you can take the test here if you want) :D

I got Donald Duck
and quote "
You are a bit arrogant. You think you know everything and don't need anybody's help. Little do you realize, you can't survive without your friends. You're more dependent than you think."

9.What book release are you looking forward to the most in 2015?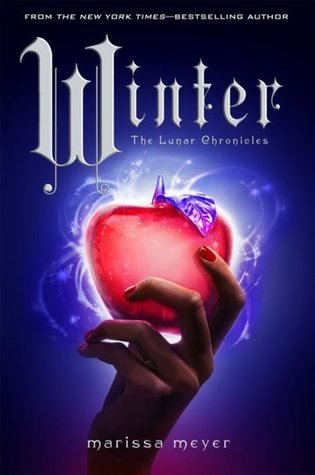 Winter (Lunar Chronciles #4) by Marissa Meyer!!!!!! LOOK AT THAT GORGEOUS COVER!!!!! I'm so excited! It's gonna be epic guys and I can't wait! It's releasing November 10th!!!
10. If you could be one fictional character for a day, who would it be?
Valar Moghulis
Jaqen H'ghar from A Song of Ice and Fire Series by George R. R. Martin! Shocking I know! No one wants to be anyone in that world! But, Jaqen's such a badass that I don't think there's ANY chance for him to die if he doesn't want to and I badly want to be a faceless assassin!!!!
Well, there ya have it folks! I hope you liked my answers! A shout out to Lauren for these awesome questions! I really enjoyed answering them!
Did you like my answers? Which fictional character would you want to be for a day? Comment and Let me Know! Please, share your thoughts!
Until next time,